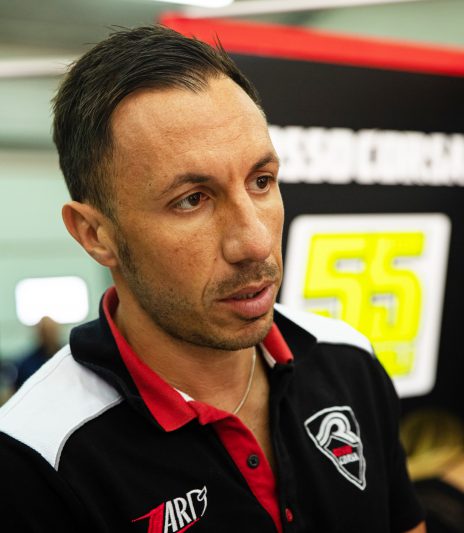 Mario Giorla – Electrical engineer
Team Rosso Corsa
Bike: Yamaha
Date of birth: 09-20-1986
Place of birth: Catanzaro
2020: Telemetry and data analyst – Rosso Corsa Team : CIV SSP 600 – rider Massimo Roccoli
2019: Telemetry and data analyst – Rosso Corsa Team : CIV SSP 600 – rider Massimo Roccoli (Imola-Misano wild card)
2018: Telemetry and data analyst – Rosso Corsa Team : CIV SSP 600 – rider Marco Bussolotti (Misano world wild card)
2017: Chief Technician / Electronic – Althea Racing Team : SBK / STK 1000 World Championship – Julien Puffe rider and Chief Technician / Electronic – Althea MF84 Team : CIV Moto3 Championship – Kevin Zannoni rider (Misano world wild card)
2016: Internship and Thesis: Performance development Yamaha R6 engine with Motec M84 control unit – Pettinato Motorsport – Unical Reparto Corse
2015: Head of electronic management, telemetry and data analysis / Unical Reparto Corse driver – 19th place out of 49 and Engineer / data analyst Italian GT Championship – Zeroracing Team: 1st place Bore Endurance Silver Cup
2014: Head of Engine / Rider Unical Reparto Corse – 26th place out of 49
EDUCATION
Graduated from the Mechanical Engineering master's course at the University of Calabria in 2016, he passed the admission test to the Master in telemetry and data analysis MotoGP – Formula1, at the Motorsport Academy in Maranello, being among the 15 engineers selected on the national territory.
During his university studies, he immediately showed his passion for the world of high-level racing, taking part in Formula SAE, a world university competition activity and undertaking an internship in the Italian GT championship.
His working career as an engineer in the world of motorsport begins immediately after obtaining the Master's degree with flying colors, specializing in telemetry and data analysis, vehicle dynamics and management of engine control and calibration strategies.