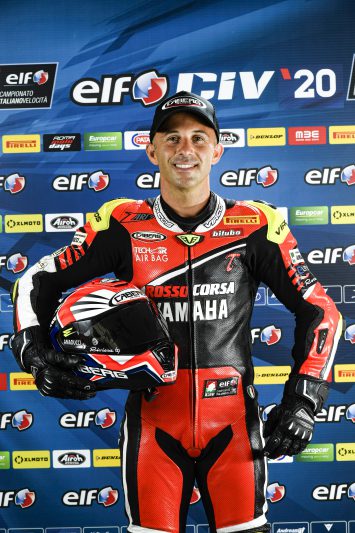 Massimo Roccoli – 2019-2020 Championship
"My passion for motorbikes began at a very young age, when I was 4 years old and my parents gave me a minimoto as a present. From that moment on, two wheels have been part of my life.
I started racing at the age of 7. In 1999 I became Italian champion and in the same year I made my debut with the "big wheels" in the Aprilia 125 trophy, where I raced for two years and in 2001 I switched to 250cc.
In 2002 I entered the world of 4-stroke racing in the Yamaha R6 Cup trophy, which I won in 2003. In 2004 I took part in the CIV 600 SS,  then in two rounds of the 600 WorldSSP and the GP of Imola with the Yamaha R1.
From 2005 to 2008 I raced with Team Italia Lorenzini where I brought home 3 national titles in the Supersport category and the victory in the San Marino GP in the Supersport World Championship. I've been participating  in the world championship until 2013.
Since 2014 I have been an official MV Agusta rider where I won 2 Italian 600 SS titles and took part in several world championship races as a test rider.
In 2018 I won the sixth title with Yamaha and in 2019 I started my journey with the Rosso Corsa team participating in the Italian speed championship in the Supersport 600 category. A year of great work that ends in second place in the championship standings. Also in 2020 the participation in the CIV goes on".