Saturday 5 October 2019

The Rosso Corsa team is at the Pietro Taruffi circuit in Vallelunga, to compete in the sixth and final round of the CIV Campionato Italiano Velocità Supersport with its two riders Massimo Roccoli and Alessandro Arcangeli.
Yesterday the two drivers of Beppe Amato's team competed in the free practice and the first round of qualifying, in which Roccoli (1'40″049) finished in twelfth place and Arcangeli (1'41″178) in nineteenth. This morning, on a cool and sunny day, the second and decisive qualifying session took place, which decided the starting  grid of the afternoon race.
The six-time Italian champion scored a time test of 1'39″810 and got eleventh place. Arcangeli, instead, established the time of 1'40″468 concluding in seventeenth position.  In the race that was held in the afternoon on the distance of 16 laps.Massimo then started from the fourth row and Alessandro from the sixth.
Roccoli got off to an excellent start, finishing sixth on the first lap. As the race went on he kept a steady and fast pace, which allowed him to climb up to second position and fight for the podium until the chequered flag, ending the race in fourth position.
On the other side of the box, Arcangeli's race ends almost immediately due to a technical problem that forces him to stop.Tomorrow at the Vallelunga circuit there will be the last race of the 2019 CIV Supersport season.
CIV 600SS – Vallelunga
Cumulative classification of the two qualifying sessions: 1) Stirpe (MV Agusta) – 2) Gabellini (Yamaha) – 3) Bussolotti (Yamaha) – 4) Valtulini (Kawasaki) – 5) Ottaviani (Yamaha) – 6) Manfredi (Yamaha) ……. 11) Roccoli (Yamaha) …….17) Arcangeli (Yamaha)
Race 11 – 1) Stirpe (MV Agusta) – 2) Casadei (Yamaha) – 3) Valtulini  – 4) Roccoli (Yamaha) – 5) Gabellini (Yamaha) – 6) Bussolotti (Yamaha) –  …. RT Arcangeli (Yamaha)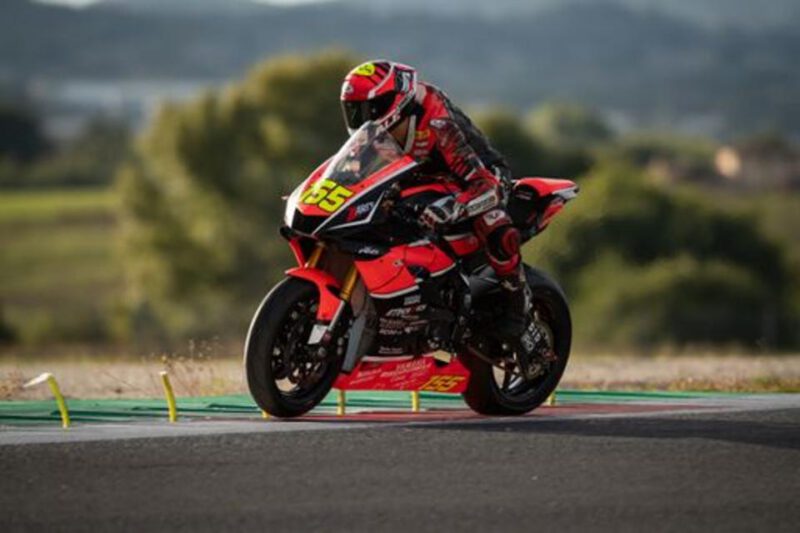 Massimo Roccoli: "The race went well, the bike was in good shape and I made a good recovery. It's just a pity that I missed the podium after fighting for second place until the last lap. The team did a great job because starting from the fourth row and ending up fighting for the podium, we can only be satisfied".
Alessandro Arcangeli
"I'm sorry, things are not going well this year. Unfortunately, a technical problem forced me to quit the race in advance. Let's hope things get better tomorrow."
Beppe Amato:
" Despite the quite complicated weekend,  the team has always worked brilliantly. We had some issues, due to the many times we had to  upset Massimo's bike.Too bad for the qualifying that probably affected the race a bit, but seeing him fight for the podium/ first position is always a satisfaction. We are trying,instead,  to understand what happened to Alessandro who had a technical problem.