Monday 19 October 2020
The last round, which closes the Elf Civ 2020 season, was held at the "Piero Taruffi" Circuit in Vallelunga. Started under a heavy rain that accompanied the drivers from Thursday to Friday, on Saturday the sky opened up to make way for the races! The test day on Thursday was unfortunately lost after only 4 laps due to the disastrous weather conditions. The first qualifying of the weekend, held on a dry track, ended in ninth position, while the second was conducted on a wet track and finished in fourth. The starting grid for the races was made taking into account the first qualifying because given the dry weather conditions recorded better times than the second. Massimo then sees himself lined up in third.
RACE 1
The first race of the weekend in Vallelunga is held under the sun, after practice days and even qualifying in the rain. The grid position is in the third row. Thanks to an excellent start Massimo managed to recover 7 positions. Unfortunately on the third lap there is a technical problem to which Massimo tries to adapt but starting to lose positions on positions the decision of the driver is to retire.
Stirpe
Ottaviani
Bernardi
RIT Roccoli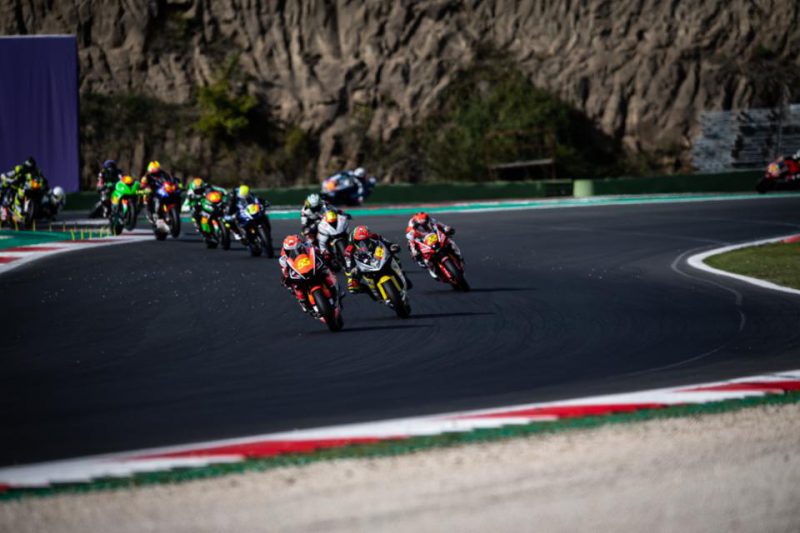 RACE 2
The eighth and final race of the CIV season took place late Sunday afternoon, regularly under an autumn sun. The multi-champion was unable to replicate the excellent start of race 1 and was caught at the back of the field. As the race went on he was able to make up a few positions and finished seventh.
1)Ottaviani, 2) Bernardi, 3) Stirpe … 7) Roccoli
Massimo Roccoli: " A weekend below expectations. In race one, I started well, but a technical problem at the gear lever forced me to retire. Today I could not replicate yesterday's starting point and I was bottled. In the race I had difficulty finding the rhythm and the affinity with the bike, I did not feel comfortable, a problem that I had throughout the season with the new tires. I'm very sorry because we worked very hard with the team to find the right affinity. I thank all my sponsors and supporters."
Watch the video of our race weekend