Saturday 22 June 2019

Second day of practice and Superpole for the Rosso Corsa team and its rider Massimo Roccoli, who at the Misano World Circuit is racing the seventh round of the Supersport World Championship.
Yesterday the six times Italian champion had concluded the two free practice sessions in seventeenth place and had especially shown to have put behind him the bad crash in Imola, which had left him with physical problems now resolved.
This morning the third and last free practice session was held on a track still wet from the rain that fell during the night. Given the track conditions Roccoli preferred not to take part in the session to avoid a crash, just before the Superpole. No rider improved on his best lap time so Massimo ended the free practice in seventeenth position.
In the afternoon the Rosso Corsa team rider raced the Superpole, decisive for the assignment of positions on the starting grid of Sunday's race. On a dry track Roccoli improved his lap time by more than one second and with a time of 1'40″387 he obtained the fourteenth position. Tomorrow he'll start from the fifth row, in the 19-lap race.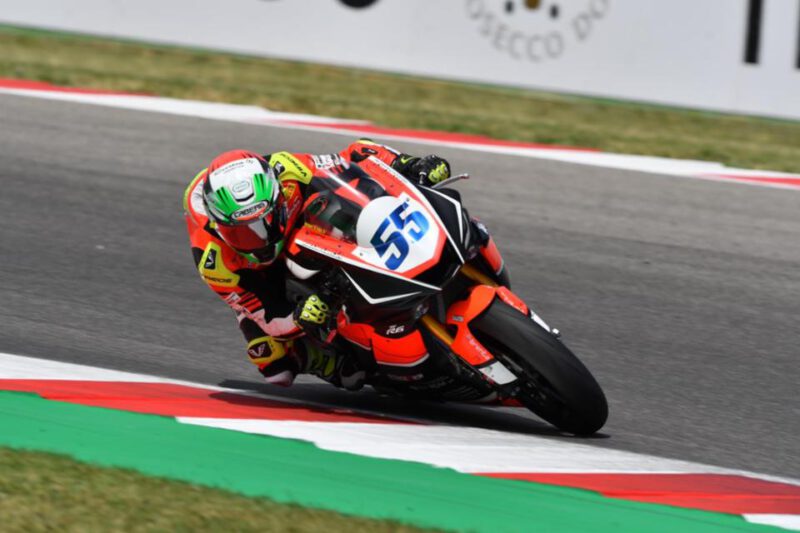 Misano World Circuit – Italy – World Supersport Championship
Cumulative classification of the three free practice sessions: 1) Caricasulo (Yamaha) – 2) De Rosa (MV Agusta) – 3) Krummenacher (Yamaha) – 4) Cluzel (Yamaha) – 5) Mahias (Kawasaki) – 6) Soomer (Honda) …… 17) Roccoli (Yamaha)
Superpole: 1) Mahias (Kawasaki) – 2) Caricasulo (Yamaha) – 3) Krummenacher (Yamaha) – 4) Soomer (Honda) – 5) Cluzel (Yamaha) – 6) Ottaviani (Yamaha).…14) Roccoli (Yamaha)
Massimo Roccoli: "Today was a positive day. We worked on our Yamaha, making some changes. I'm very close to the times I was hoping to obtain and half a second from the second row, which was our goal in Superpole. For tomorrow's race, I hope I can keep a good pace and have a good race. I would like to thank the team for their great work and everything we are doing together."
Beppe Amato: "We are satisfied with the work done today. Massimo's position on the grid is not the one we hoped for, but the important thing is that we have improved compared to yesterday. What interests me most are the conditions of the pilot, which are improving and for this we are happy. We are here to train for the CIV race in Imola next weekend. This morning we found a good balance, although there is still room for improvement. For tomorrow's race we are confident".