Sunday 23 June 2019

Sunny and warm day today's at the Misano World Circuit where Massimo Roccoli, the rider of the Rosso Corsa team, played as wild card the seventh race of the Supersport World Championship. On Friday,during the free practice, the six-time Italian champion had confirmed that he had overcome the physical problems following his fall at Imola, in the first wild card played this year in the Supersport World Championship. Yesterday in Superpole Massimo got the fourteenth place and then Poggi started from the fifth row, in the race that took place in the late morning, on the distance of 19 laps.
Roccoli had a good start, recovering some positions immediately. The six-time Italian champion played the race in the group of pursuers and finished in tenth place, winning six points in the standings of the World Superpole.
The next appointment on the track of the Rosso Corsa team is scheduled for the weekend of 29 and 30 June at the Imola circuit for the third round of the CIV Supersport.
Misano World Circuit – Italia – Supersport World Championship
Race: 1) Krummenacher (Yamaha) – 2) Caricasulo (Yamaha) – 3) Mahias (Kawasaki) – 4) Cluzel (Yamaha) – 5) Okubo (Kawasaki) – 6) Gabellini (Yamaha)…….10) Roccoli (Yamaha).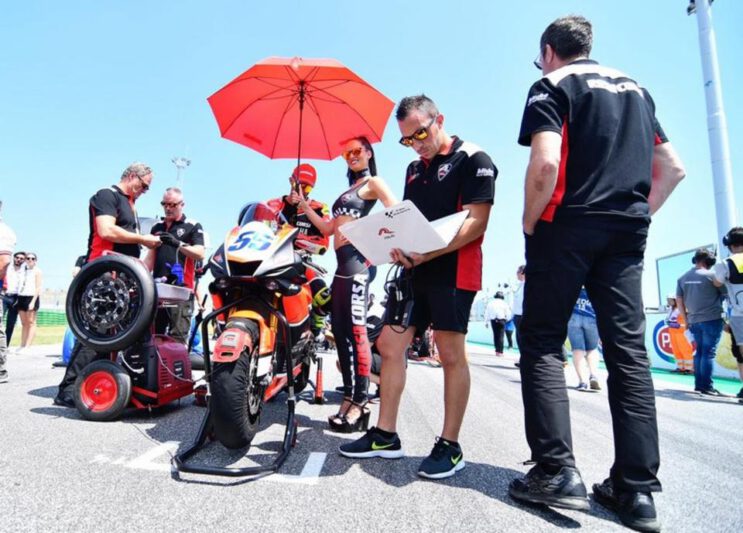 Massimo Roccoli; "In the race I started well, also because the start is one of the things that I do best. I tried to keep my rhythm and eventually I brought home a good result, but I am satisfied especially with my physical condition. The team did a great job and for this I want to thank them. Now, our thoughts turn to the next engagement with the CIV Supersport in Imola. A big thank you to my supporters and our sponsors"
Beppe Amato – Team Manager: "I would say that the race went very well. Achieving the top ten after starting from the fourteenth position can only make us satisfied. I am very happy to have found that Massimo is in full shape, and this gives me hope for the next appointment with the CIV at Imola. I thank our technical staff for their work. It was a very positive weekend, waiting for the next appointment in Imola. I also want to thank all the guys of the Rosso Corsa team, our partners and our sponsors ".